Call 020 868 22244 to speak directly to an experienced professional. Delivering customer excellence since 1974.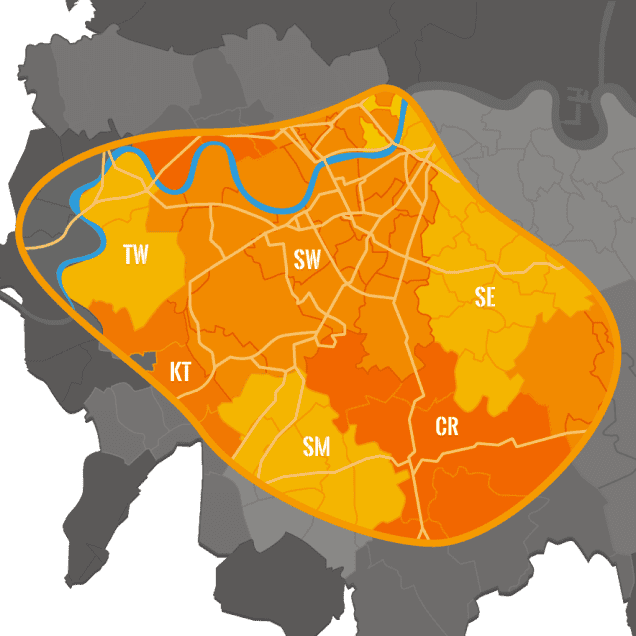 Bathroom Plumbing Services

in London
Our experienced, approved plumbers provide a quick response to bathroom issues and enquiries within our London coverage area. Whether you're planning a full bathroom renovation project or you require expert repair work to deal with a leak or blockage, our team has the skills and knowledge to help. Our plumbers handle everything, taking the hassle out of dealing with bathroom installation or maintenance and providing an efficient, high-quality service without a call out charge or ongoing contract.
How can our bathroom services help customers in London?
Design
We can help you to design a new bathroom for your property, advising you on what's possible within the current layout and putting you in touch with experienced designers who can make your ideas a reality. We've worked on bathrooms of all sizes and can provide expert assistance, no matter what challenges are present.
Install
Our approved plumbers are highly experienced and will carry out all aspects of the work involved in your bathroom renovation. Installing additional pipework, plumbing in any fixtures, and making sure that all decoration is completed to the highest possible standard – our professional team can provide all the assistance you require.
Replace
If the home improvement project you have in mind doesn't quite extend to a full renovation, we can replace individual fixtures to refresh your bathroom and give your property a new lease of life. Our team is happy to handle projects of all sizes, providing a hassle-free helping hand.
Repair
As plumbing professionals, we can carry out any repair work that you require, efficiently and with minimal disruption. From faulty taps through to blockages and water leaks, we'll make sure that any issues are resolved promptly so that you can make full use of your bathroom.
No call centres – call 020 868 22244 to speak directly to one of our experienced plumbers about the bathroom services we offer in London.
Or, if you prefer, send us a message and we'll get back to you within 1 hour.
What makes Maintracts the right choice for bathrooms

in London?
Rapid response time
Our dedicated bathroom services provide a quick response to any issues or enquiries, making sure that you aren't kept waiting if you want to get started on a renovation project or you require repair work. Our phones are answered by qualified plumbers to minimise delays.
In-depth knowledge
We've worked in the industry since 1974, gaining extensive hands-on experience within bathrooms of all sizes. We understand the issues that can occur, and we know exactly how to avoid them, saving you time and hassle. Our plumbers can help with all your bathroom requirements.
Careful preparation
We draw on our experience to make sure that issues and enquiries are handled as efficiently as possible. We understand exactly what we're looking for when helping customers with their renovation projects.
Excellent value
We make sure that everyone can take advantage of our expertise, providing professional plumbing support at an affordable price.
Contact


Maintracts Services
Ltd
Call 020 868 22244 to find out how our experienced team can help. We complete all residential and commercial plumbing, heating, electrical, and drainage jobs efficiently, professionally, and to the highest possible standard.