Call 020 868 22244 to speak directly to an experienced professional. Delivering customer excellence since 1974.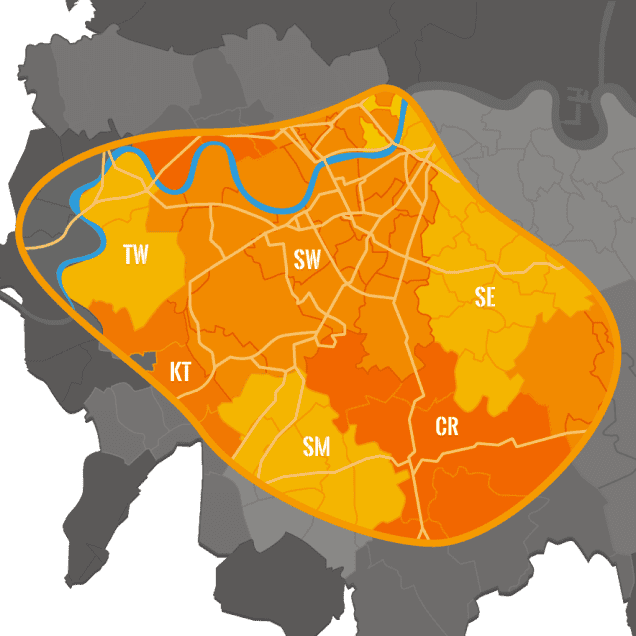 CCTV drain surveys

in London
Our approved plumbers carry out accurate and comprehensive CCTV drain surveys for residential and commercial customers within our London coverage area. Having worked in the industry since 1974, we have a thorough understanding of plumbing and drainage issues and will be able to use these surveys to locate the precise cause of your drainage problem. This allows us to avoid a lengthy diagnostic process, saving you time and money and avoiding further inconvenience. No matter the issue you're experiencing, our team of drainage experts will produce a high-quality, hassle-free result, every time.
What are CCTV drain surveys?
CCTV drain surveys utilise the latest CCTV technology to provide a comprehensive assessment of your drainage system, revealing the precise nature of any issues you are experiencing. These surveys act as an excellent diagnostic tool, providing clear evidence of any problems and allowing our plumbers to efficiently locate any stubborn or elusive leaks, cracks, or blockages. We provide a copy of the survey footage as well as a detailed written report, allowing you to follow our findings, keep a precise record of the problem, and receive professional recommendations for any actions you should take.
What makes Maintracts the right choice for CCTV drain surveys in London?
Rapid response time
We provide a rapid response so that you aren't left waiting to find the cause of your drainage issue. Our phones are answered by approved plumbers who will be able to understand your requirements and arrange a CCTV drain survey at the earliest possible opportunity.
In-depth knowledge
Established in 1974, our team has extensive plumbing and drainage experience and will be able to carry out your CCTV drain survey thoroughly, efficiently, and with minimal disruption. This ensures that you receive an accurate and comprehensive result.
Careful preparation
Our CCTV drain surveys are hassle-free. We make sure that all our engineers are fully prepared, equipping them with everything they need to achieve an excellent result. This includes specialist sonar tracing tools that can be used to locate elusive blockages.
Excellent value
We provide a high-quality CCTV drain survey service at a competitive price. With no call out charge or ongoing contract needed, we make sure that everyone can take advantage of our drainage expertise, determining the exact nature of their drainage issue.
No call centres – call 020 868 22244 to speak directly to one of our experienced plumbers about CCTV drain surveys in London.
Or, if you prefer, send us a message and we'll get back to you within 1 hour.
Hassle-free drainage services

in London
We can help with more than just CCTV drain surveys – our specialist drainage services provide assistance with a wide range of issues and repairs. No matter the size or nature of your drainage problem, our approved plumbers will provide the professional support you require.
Contact


Maintracts Services
Ltd
Call 020 868 22244 to find out how our experienced team can help. We complete all residential and commercial plumbing, heating, electrical, and drainage jobs efficiently, professionally, and to the highest possible standard.