Call 020 868 22244 to speak directly to an experienced professional. Delivering customer excellence since 1974.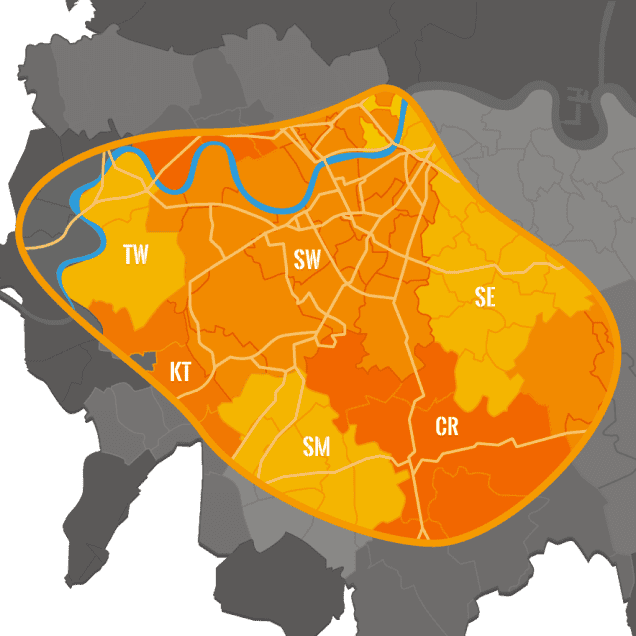 Powerflushing

in London
Our experienced team of heating engineers provides an efficient and effective powerflushing service for customers within our London coverage area who want to get the most out of their central heating system. We've worked in the plumbing and heating industry since 1974 and understand how to provide a high-quality, hassle-free service that keeps any disruption to a minimum. Our engineers work efficiently and thoroughly, utilising their extensive experience to ensure that each powerflush is as effective as possible.
What does
powerflushing involve?
A powerflush removes any sediment that has built up within your pipework and radiators, improving the efficiency of your central heating system. A heating engineer will pump specialised chemicals through your system to break down and clear away this sediment, before adding a corrosion inhibitor to prevent rust from forming in future. Inline magnetic filters can also be installed as an additional protective measure.
When should you
powerflush your
central heating system?
If there are cold areas at the bottom of your radiators
If your boiler or radiators are making excessive noise
If some of your radiators do not heat as well as others
If your radiators struggle to heat up, even though the pipework gets hot
If bleeding your radiators produces discoloured water
If your boiler frequently shuts down and needs to be restarted
What are the advantages of professional powerflushing?
When carried out by an experienced professional, a powerflush can play an important role in getting the most out of your London property's central heating system. Powerflushing can be used to:
Resolve poor maintenance
If your heating system hasn't been maintained regularly, sediment will have built up within the pipework. A professional powerflush will remove this and ensure that the pipework and radiators within your property can live up to their full potential.
Improve the efficiency of your heating
A well-maintained heating system will heat up more quickly and will be able to maintain higher temperatures. Not only is this easier to live with, the increased efficiency will help you to save money on your energy costs.
Prepare for a new boiler installation
A powerflush is often recommended before installing a new boiler so that your central heating system can operate as effectively as possible. In some cases, sediment within pipework and radiators can even end up damaging the new boiler.
Produce lasting benefits
As long as your boiler and central heating system are regularly maintained in the future, a powerflush should have a lasting positive impact on their effectiveness. This makes it a worthwhile investment for those looking to get the most out of their heating.
No call centres – call 020 868 22244 to speak directly to a member of our professional heating team about powerflushing in London.
Or, if you prefer, send us a message and we'll get back to you within 1 hour.
Professional heating services
in London
Our heating services draw on our extensive experience in the plumbing and heating industry, covering everything from maintenance through to specialist forms of heating. We have the knowledge, skills, and expertise to help with all your heating requirements.
Contact


Maintracts Services
Ltd
Call 020 868 22244 to find out how our experienced team can help. We complete all residential and commercial plumbing, heating, electrical, and drainage jobs efficiently, professionally, and to the highest possible standard.