Call 020 868 22244 to speak directly to an experienced professional. Delivering customer excellence since 1974.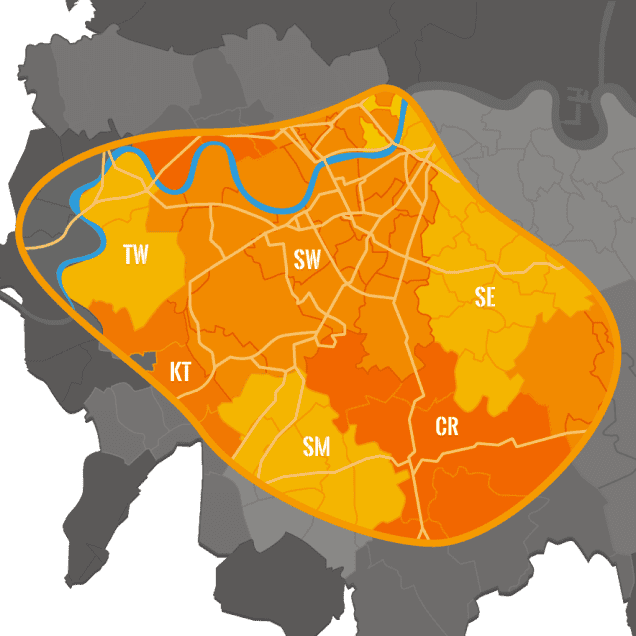 Underfloor heating

in London
Our team of approved plumbers and NAPIT-approved electricians have considerable experience installing underfloor heating systems throughout our London coverage area. We've been part of the plumbing and heating industry since 1974 and have developed a thorough understanding of how to provide a high-quality, hassle-free service. No matter the size or nature of your project, we will carry out our work efficiently, professionally, and with minimal disruption.
What are the advantages of underfloor heating?
Whether water- or electric-based, underfloor heating provides a modern alternative to traditional radiators. This convenient and increasingly popular heating option can be used to:
Heat spaces more evenly
Underfloor heating is spread over a wide area, allowing heat to be distributed more evenly throughout the space. This has several benefits – heat can be retained if a door or window is left open, and hot and cold spots can be avoided.
Improve the efficiency of your heating
Underfloor heating operates at a lower temperature than traditional radiators and is often more energy efficient as a result. Depending on your heating requirements, this means that underfloor heating can be more cost effective and can save you money on your energy bills.
Reclaim the wall space used by radiators
Underfloor heating eliminates the need for radiators, allowing you to free up wall space and take full advantage of the space within your property. This is a significant advantage for property owners in London where space is at a premium.
Add a touch of luxury to your property
Underfloor heating provides a different experience to traditional radiators, providing a comfortable, consistent level of heat and eliminating the noise that can be associated with radiators. As a modern heating option, it feels like a luxurious alternative.
How can our underfloor heating service help customers in London?
As a well-established plumbing and heating company, we have the skills and resources to install underfloor heating systems to the highest possible standard. Our team of approved plumbers and NAPIT-approved electricians is prepared to handle projects of all types and sizes, providing a high-quality and hassle-free service, every time. We have considerable hands-on experience with both forms of underfloor heating:
Electric-based underfloor heating
These heating systems are cheaper to install but are best suited to smaller or less-demanding rooms. This is because they often have higher running costs that can offset the initial savings on installation. Electric-based underfloor heating is extremely versatile and can easily be installed within any room.
Water-based underfloor heating
Water-based systems are ideally suited to larger areas where their ability to retain heat within a room can be used to full effect. They tend to be more energy efficient than electric systems, resulting in lower running costs throughout their lifespan.
No call centres – call 020 868 22244 to speak directly to a member of our professional heating team about underfloor heating in London.
Or, if you prefer, send us a message and we'll get back to you within 1 hour.
Professional heating services

for London customers
Our highly experienced team has the knowledge, skills, and expertise to help with all your heating requirements. We've been in the plumbing and heating industry since 1974, utilising our extensive expertise to provide a range of high-quality, specialist heating services.
Contact


Maintracts Services
Ltd
Call 020 868 22244 to find out how our experienced team can help. We complete all residential and commercial plumbing, heating, electrical, and drainage jobs efficiently, professionally, and to the highest possible standard.