Call 020 868 22244 to speak directly to an experienced professional. Delivering customer excellence since 1974.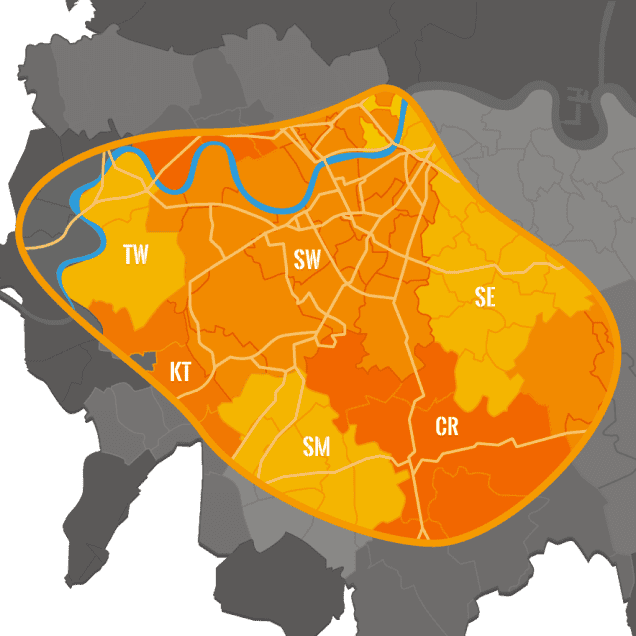 Water pressure services

in London
Our approved plumbers are water pressure experts. We've worked in the heating and plumbing industry since 1974 and have built a thorough understanding of all kinds of water pressure issues. Being based in London, our team has an excellent working knowledge of the city's infrastructure and the common problems that can affect its water supplies. We've worked in London properties of all types and sizes and will draw on this expertise to provide effective, well-informed solutions. As experienced professionals, we identify the cause of any issues, avoiding further disruption and giving you peace of mind that your water pressure problems have been addressed fully. We provide our specialist water pressure services without a call out charge or the need for an ongoing contract.
Struggling with low water pressure in London?

Our expert team can help
Low water pressure issues are a common source of frustration – being forced to rely on a trickle of water from your taps or shower can be extremely irritating. Our team of approved plumbers have extensive hands-on experience dealing with water pressure issues and will be able to identify and address the cause of your problem. If there are no issues with the water supply entering the property, it is likely that your internal plumbing is the source of any pressure-related problems.
We have the skills, knowledge, and expertise to resolve a wide range of common plumbing issues that could be contributing to your low water pressure, providing efficient repairs that help with:
Old or poorly maintained pipework
Blockages
Partially closed valves
Leaks
Excessive demand for water
Is your boiler struggling to maintain the recommended pressure? Put our skills to good use
Your central heating system will struggle to operate as effectively as it should when dealing with pressure issues. Low pressure can prevent your radiators from heating up properly and can reduce the energy efficiency of your boiler. This inefficiency has a significant impact, making it harder to heat your property and incurring higher running costs. Our team of approved plumbers and Gas Safe registered heating engineers can quickly identify any faults that may be causing your issue and can carry out any necessary repair or maintenance work.
Two main causes typically contribute to low boiler pressure:
Bleeding radiators
Removing air from your radiators helps them to heat up more evenly but can also lower the overall pressure within your central heating system.
Water leaks
If you're unable to find any leaks within your pipework, there may be a leak inside the boiler itself. If you suspect this is the case, contact one of our Gas Safe registered engineers.
No call centres – call 020 868 22244 to speak directly to one of our experienced plumbers about the specialist water pressure services we offer in London.
Or, if you prefer, send us a message and we'll get back to you within 1 hour.
Quality plumbing services
in London
Our plumbing expertise covers more than just water pressure problems. We provide a range of specialist plumbing services at a competitive price, ensuring that customers in London have access to the professional support they require.
Contact


Maintracts Services
Ltd
Call 020 868 22244 to find out how our experienced team can help. We complete all residential and commercial plumbing, heating, electrical, and drainage jobs efficiently, professionally, and to the highest possible standard.