Call 020 868 22244 to speak directly to an experienced professional. Delivering customer excellence since 1974.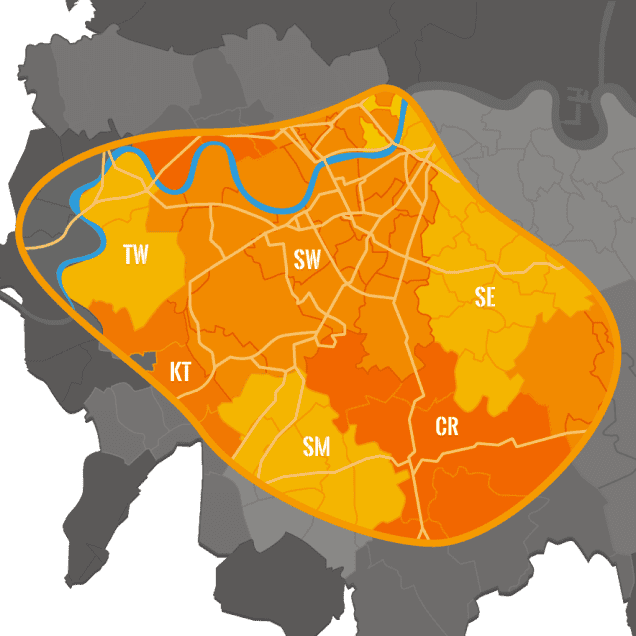 Blocked drains

in London
We provide an efficient and professional response to blocked drains and other drainage issues within our London coverage area. Our team of approved plumbers are drainage experts, having worked within properties of all types and sizes to successfully repair drains for our residential and commercial customers. We've worked in the plumbing industry since 1974, gaining a thorough understanding of how to resolve drainage problems effectively and with minimal disruption. If you're currently dealing with a blocked or broken drain in London, our plumbers have the skills needed to provide a hassle-free helping hand.
How can our blocked
drain repair service help customers

in London?
Our approved plumbers provide a wide range of specialist drainage services that can help residential and commercial customers in London to resolve their broken drain issues. The varied experience within our team ensures that we can handle drainage issues of all types and sizes, providing an efficient and professional response that can minimise any disruption. We can help with any issues involving:
Blocked drains and pipes
Broken drains and pipes
Drainage leaks
Overflows
Communal drain issues
Blocked toilets, showers, baths
Unpleasant smells
Fat build-ups
What makes Maintracts the right choice for blocked drain repairs in London?
Rapid response time
Our team provides a quick response that minimises the inconvenience caused by broken drains, leaks, and blockages. All our phones are answered by approved plumbers, allowing you to speak directly to a professional who can provide expert advice and arrange an appropriate response.
In-depth knowledge
Established in 1974, we have a thorough understanding of the plumbing industry and have successfully resolved a wide range of blocked drain issues. No matter the size or nature of the drainage issues you're experiencing, we have the knowledge and expertise to provide an effective solution.
Careful preparation
We take the hassle out of blocked drains and other drainage issues. Our team has access to all the resources and equipment they need to resolve the issue, avoiding the inconvenience of arranging multiple visits and minimising the period where you're left without functional drains.
Excellent value
We provide a high-quality blocked drain repair service, without a call out charge or the need for an ongoing contract. Our flexible approach ensures that everyone can benefit from our drainage expertise at a competitive price.
No call centres – call 020 868 22244 to speak directly to one of our experienced plumbers about our blocked drain repair service in London.
Or, if you prefer, send us a message and we'll get back to you within 1 hour.
Hassle-free drainage services

in London
We provide a range of specialist drainage services, all of which are carried out by experienced, approved plumbers for your peace of mind. If there's an issue with your drainage system, we can provide the professional assistance that you and your property require.
Contact


Maintracts Services
Ltd
Call 020 868 22244 to find out how our experienced team can help. We complete all residential and commercial plumbing, heating, electrical, and drainage jobs efficiently, professionally, and to the highest possible standard.