Call 020 868 22244 to speak directly to an experienced professional. Delivering customer excellence since 1974.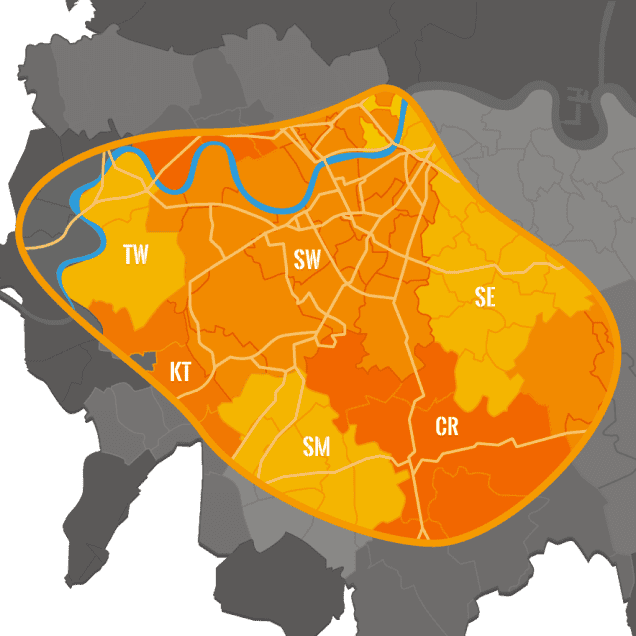 Saniflo macerators

in London
Established in 1974, we are a well-established plumbing company with extensive experience of Saniflo macerator toilet repairs, maintenance, and installation. Our team of approved plumbers will take the hassle out of the process, carrying out their work in an efficient and professional manner that minimises disruption within your London property. No matter the size or nature of the job you have in mind, we have the skills, knowledge, and expertise to provide the support you need. Macerator toilets and pumps are specialist products that benefit from the input of an experienced plumbing company – let us provide a quick response to any Saniflo problems or installation enquiries.
What are
Saniflo macerator toilets?
If the existing plumbing within your property can't accommodate a traditional toilet in your chosen location, a macerator toilet is the ideal solution. The Saniflo macerator pump sits conveniently behind the toilet and uses powerful blades to liquefy any solid waste. This is then pumped away through a pipe connected to the main drain line, avoiding the cost and disruption involved in altering your existing plumbing.
What makes Maintracts the right choice for Saniflo Macerators in London?
Rapid response time
We understand how disruptive Saniflo issues are – that's why our approved plumbers are available 24/7 to provide a rapid response. Speak directly to an experienced professional and receive expert advice from someone who understands the issue you're experiencing.
In-depth knowledge
We've worked in the industry since 1974 and have extensive experience with Saniflo installation and repairs. No matter the size or nature of the issue you're experiencing, we have the skills, knowledge, and expertise to find the most effective solution. Our team has you covered.
Careful preparation
Our team makes Saniflo installation and repairs simple and straightforward. We keep some spare parts in our vans to ensure that common issues can be addressed quickly, and have built a network of local suppliers to avoid delays when sourcing parts for specialised repairs.
Excellent value
Our flexible approach eliminates the need for a call out charge or ongoing contract, allowing everyone to benefit from our Saniflo expertise. We provide high-quality, professional plumbing services for a competitive price.
No call centres – call 020 868 22244 to speak directly to one of our experienced plumbers about our Saniflo macerator services in London.
Or, if you prefer, send us a message and we'll get back to you within 1 hour.
How can our Saniflo macerator services help customers in London?
Installation
We've successfully installed macerator toilets within a wide range of London properties, and we will draw on this experience to complete your installation professionally, efficiently, and with minimal disruption. We understand the issues associated with toilet macerator pump installations and we know how to avoid them, providing the reliable result that you're looking for. As experienced installers, we'll make sure that your new Saniflo toilet is set up quickly and correctly, eliminating any hassle and minimising the risk of future problems occurring.
Repair
Macerator toilet problems can be extremely disruptive. We understand this and make sure that our plumbers provide the quick response and expertise that you need. We're familiar with a wide range of Saniflo macerator pump problems and will provide a hassle-free solution to the issue you're experiencing. Our skilled macerator engineers are ready to help with Saniflo toilet blockages, noise, leaks, and much more – we have the knowledge and experience to achieve the right result, every time.
Professional plumbing installations
in London
Our highly experienced plumbers provide a wide range of specialist installation services, completing all their work efficiently, professionally, and to a high standard. We provide a professional helping hand for all your plumbing needs.
Contact


Maintracts Services
Ltd
Call 020 868 22244 to find out how our experienced team can help. We complete all residential and commercial plumbing, heating, electrical, and drainage jobs efficiently, professionally, and to the highest possible standard.