Drain descaling
and lining
Call 020 868 22244 to speak directly to an experienced professional. Delivering customer excellence since 1974.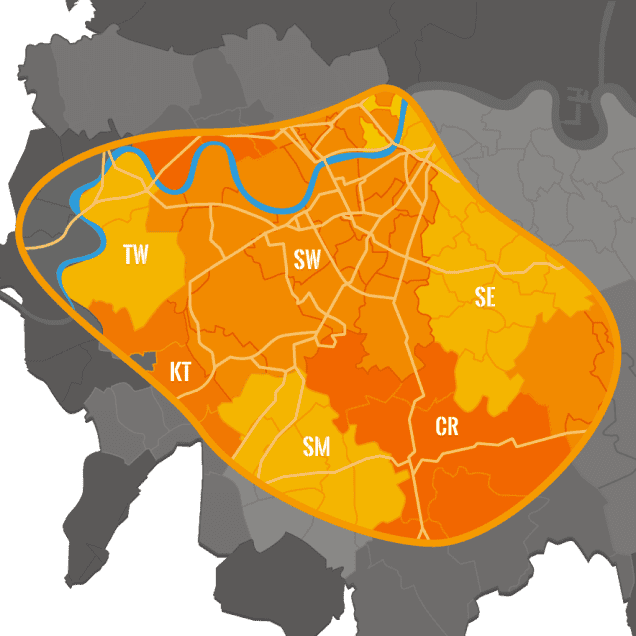 Drain descaling and lining

in London
Our approved plumbers provide highly effective drain descaling and lining services throughout our London coverage area, resolving issues of all sizes with minimal hassle or disruption. Established in 1974, we have extensive experience with these specialist techniques and understand exactly how they can be used to achieve the best possible result. Drainage issues can be highly inconvenient and often require expert attention to ensure that they are resolved fully. We work closely with our residential and commercial clients, providing the professional support that their drainage systems require – without a call out charge or the need for an ongoing contract.
What is drain descaling?
Drain descaling removes any mineral deposits that have built up within your drainage system, cleaning the interior of your pipework and returning your drains to top working condition. This process has a number of benefits – a recently-cleaned drainage system will work more effectively and will be less prone to developing blockages and issues in the future. This can make descaling a particularly good method for addressing problem drains that repeatedly clog.
What is drain lining?
Drain lining is a highly effective method used to repair damaged or broken drains quickly and without the need for excavation. A replacement lining is inserted into the pipe and cured in place, covering up any damaged areas and creating a new, watertight interior surface. This process is extremely convenient, eliminating the time, cost, and inconvenience of removing the existing drain.
What makes Maintracts the right choice for drain descaling and lining in London?
Rapid response time
Our team understands how disruptive drainage issues can be – that's why we provide a quick response to drain descaling and lining enquiries. Our phones are answered by approved plumbers, allowing you to speak directly to a professional and receive expert assistance with your drainage problem.
In-depth knowledge
We've been in the industry since 1974 and have successfully completed a wide range of descaling and lining jobs with minimal disruption. Our plumbers understand how to achieve the best possible results using these techniques, providing a high-quality result, every time.
Careful preparation
We take the hassle out of descaling and lining drains by preparing thoroughly for each job we take on. Our plumbers have all the resources and equipment they require, allowing them to provide an efficient and professional response to your drainage issue.
Excellent value
Our drain descaling and lining services don't require a call out charge or ongoing contract, allowing customers to access our specialist drainage services for a competitive price. Our flexible approach ensures that everyone can take advantage of our expertise.
No call centres – call 020 868 22244 to speak directly to one of our experienced plumbers about drain descaling or lining in London.
Or, if you prefer, send us a message and we'll get back to you within 1 hour.
Hassle-free drainage services

in London
Our team of approved plumbers provide a wide range of expert drainage services, assisting residential and commercial customers in London. No matter the issue with your drainage system, we have the skills, knowledge and expertise to help.
Contact


Maintracts Services
Ltd
Call 020 868 22244 to find out how our experienced team can help. We complete all residential and commercial plumbing, heating, electrical, and drainage jobs efficiently, professionally, and to the highest possible standard.