Unvented hot water cylinder repairs
in London
Call 020 868 22244 to speak directly to an experienced professional. Delivering customer excellence since 1974.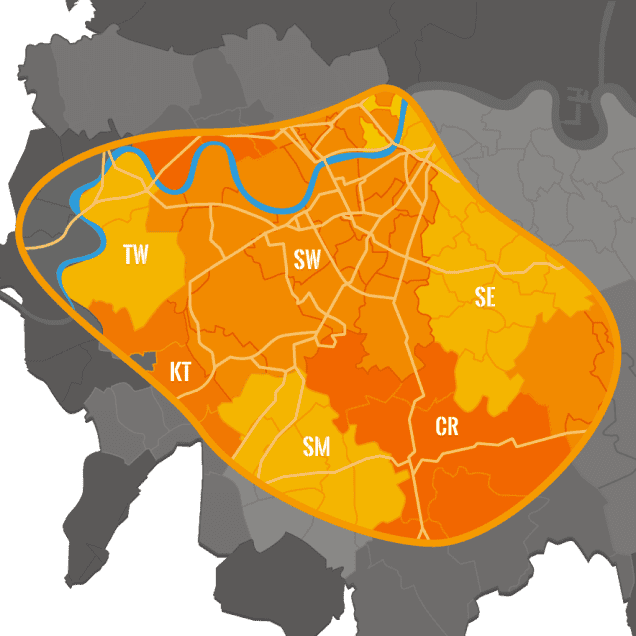 Unvented hot water cylinder repairs
in London
We know how important it is to have hot running water in your home. Our experienced team of heating engineers provide a professional unvented hot water cylinder repair service that will ensure your existing hot water heater can meet your requirements, supplying hot water quickly and keeping it at temperature for longer.
Is your hot water cylinder vented or unvented?
Two of the most popular types of hot water cylinders are vented and unvented. The suitability of each will depend on your property and its water supply. Unvented cylinders use a mains pressure water supply whilst vented hot water cylinders are supplied by a large cold water storage tank. Water is carried down from this tank through a vent pipe and is heated within the cylinder. Water pressure in a vented system is determined by the height of the water storage tank, meaning that in many properties the tank will be located in the loft.
Common faults with
unvented hot water cylinders
There are a number of problems that could affect your hot water supply. Some of these are minor issues, but others may require our engineers' in-depth expertise to repair. Typical problems include:
Malfunctioning controls and safety devices
Thermostat faults
Power loss caused by tripped circuit breakers
Failed expansion vessels, faulty expansion valves, and pressure reduction valves
These problems can present themselves in several ways including:
Lack of hot water
Fluctuating water pressure
Slow flow rate
Water escaping when not in use
Being without hot water at home can be disruptive and miserable. Whether cold water is flowing when you open the hot tap or no water is flowing at all, we can send a qualified engineer to investigate and repair faults to your unvented hot water cylinder within 24 hours. Our professional team will ensure your water cylinder is back up and running again as soon possible and is heating and storing water effectively, ready for whenever you need it.
No call centres – call 020 868 22244to speak directly to one of our experienced plumbers about shower repairs within our London coverage area.
Or, if you prefer, send us a message and we'll get back to you within 1 hour.
We are hot water cylinder experts
At Maintracts, we carry out repairs on hot water cylinders from a wide range of manufacturers, including:
Heatrae Sadia Megaflo
Santon
Premier Plus
Boilermate
Systemate
Joule
Cyclone
DPS – Dedicated Pressure Systems
Heatbank
Ariston
Oso
RM cylinders
Telford
Range Tribune
Hot water cylinder installation and maintenance services
Our team isn't limited to repair work – we can also service and install all types of hot water cylinders within London properties. Many people are unaware that an unvented hot water cylinder requires annual servicing of the key safety devices fitted to the system. The cylinder installed within your property is a pressurised container and will require regular maintenance just like a gas boiler. We encourage homeowners to have their hot water cylinder serviced every 12 months.
Boiler expertise for London customers
We offer a range of specialist boiler services that ensure your heating and hot water systems receive the support they require. No matter the scope of your problem, we can provide the expertise you require.
Expert boiler services

for London customers
We offer a wide range of specialist boiler services that will ensure your property's heating and hot water systems are operating safely and efficiently. No matter your requirements, our expert team of boiler engineers have you covered.
Contact


Maintracts Services
Ltd
Call 020 868 22244 to find out how our experienced team can help. We complete all residential and commercial plumbing, heating, electrical, and drainage jobs efficiently, professionally, and to the highest possible standard.