Call 020 868 22244 to speak directly to an experienced professional. Delivering customer excellence since 1974.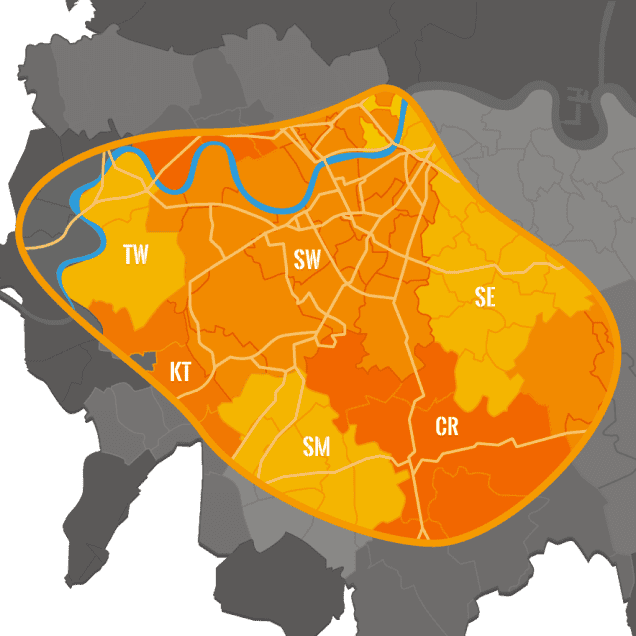 Emergency boiler repairs

in London
We provide an efficient and professional response to boiler breakdowns, emergencies, and major issues throughout our London coverage area. Our Gas Safe registered heating engineers are highly experienced and can work on boilers from all major manufacturers with minimal disruption. Drawing on this extensive experience, we'll be able to quickly identify and address any issues that we encounter, no matter the size, type, or age of your boiler. Our engineers handle every stage of the process, from answering your enquiry and carrying out the initial call out, through to completing any necessary repairs. This ensures that your boiler, central heating, or hot water system is in expert hands at all times.
Having a boiler emergency? Our emergency boiler repairs service can help in London
Fault finding
Breakdowns
Replacement parts
Thermostatic valves
Smart controls
Radiators
Magnetic filters and corrosion inhibitors
Immersion heaters
Need emergency boiler repairs in London? What makes Maintracts the right choice?
Immediate response
Our team is available 24/7 to provide a rapid response to boiler breakdowns and other repair emergencies. Call to speak directly to a Gas Safe registered engineer and receive immediate advice on managing the situation. We draw on years of experience to minimise delays for customers in London.
Wide-ranging expertise
We're familiar with boilers from all major manufacturers and will be able to quickly identify and address urgent issues. Our engineers are knowledgeable and highly experienced, allowing them to work on boilers of all types, sizes, and ages and to find the most appropriate repair solution.
Excellent preparation
Our emergency boiler repairs service takes the hassle out of dealing with urgent issues and breakdowns. Each of our engineers maintain stock of some parts so that they can address common boiler issues as quickly as possible. And, where specialised parts are required, we have relationships with local suppliers that allow us to avoid delays.
Fantastic value
Our flexible approach provides a high-quality repair service at a competitive price, with no need to worry about a call out charge or ongoing contract. Take advantage of our expertise and focus on addressing your boiler issue and avoiding disruption. Our emergency boiler repairs cover all major manufacturers
No call centres – call 020 868 22244 and speak to one of our Gas Safe registered boiler engineers immediately. Our emergency boiler repair service is available within our London coverage area.
Or, if you prefer, send us a message and we'll get back to you within 1 hour.
Boiler expertise for

all occasions
We offer a lot more than just emergency repairs. Our engineers can help with a wide range of specialist boiler services, ensuring that your boiler, central heating, and hot water systems always receive the support they need. No matter the issue, our professional boiler services have you covered.
Contact


Maintracts Services
Ltd
Call 020 868 22244 to find out how our experienced team can help. We complete all residential and commercial plumbing, heating, electrical, and drainage jobs efficiently, professionally, and to the highest possible standard.