Call 020 868 22244 to speak directly to an experienced professional. Delivering customer excellence since 1974.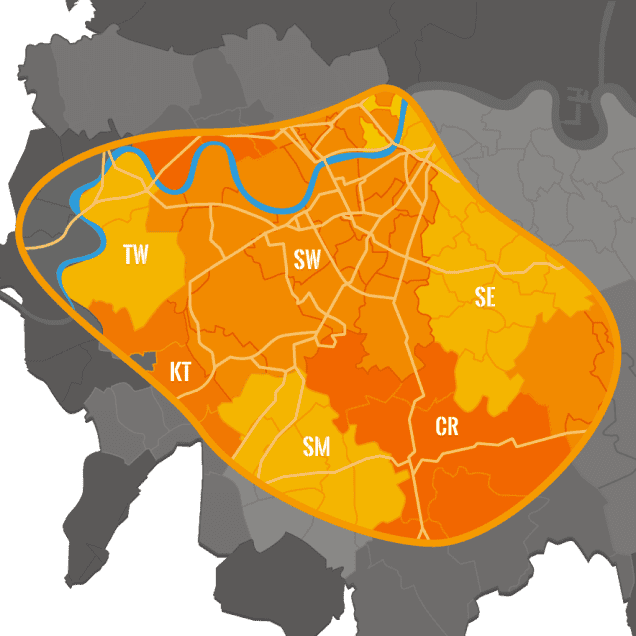 Emergency plumbing

in London
Our team of approved plumbers provides an efficient and professional response to urgent plumbing issues and emergencies within our London coverage area. We're highly experienced, having been in the plumbing and heating industry since 1974, and will be able to quickly find and fix the cause of your issue, saving you time and money and avoiding unnecessary disruption. Every aspect of our emergency plumbing service is handled by our experienced plumbers, ensuring that your issue receives expert attention from the moment you pick up the phone. No matter the size or nature of your plumbing emergency, we'll provide a high-quality, hassle-free repairs service, without a call out charge or the need to worry about an ongoing contract.
Having a plumbing emergency?

Our London repair service can help
Our emergency plumbing service provides a rapid, hassle-free response to a wide range of urgent plumbing issues. As highly experienced, approved plumbers, our team can carry out high-quality plumbing repairs of all kinds, quickly and effectively addressing emergencies related to:
Internal and external taps
Toilets and bidets
Showers, baths, and wet rooms
Sinks
Radiators
Washing machines and dishwashers
Blockages
Burst pipes
Leaks
Overflows
Pumps
Radiators
Water pressure
Valves and stopcocks
Immersion heaters and water tanks
Replacement pipework
Thermostats
Need emergency plumbing repairs in London? What makes Maintracts the right choice?
Immediate response
Major plumbing issues and emergencies can be hugely disruptive and require urgent attention – we provide the quickest possible response, 24/7. Call and speak directly to an approved plumber to receive immediate advice on how to manage the situation until we arrive.
Wide-ranging expertise
We've been in the plumbing and heating industry since 1974 and have a thorough understanding of a wide range of plumbing issues. This allows us to quickly find the cause of your emergency and provide an effective response, keeping any disruption to a minimum.
Excellent preparation
Our emergency plumbing service takes the hassle out of resolving urgent issues. Our plumbers arrive prepared with some common parts to ensure that issues can be addressed quickly. Where specialised repairs are required, we avoid delays by sourcing from our established network of local suppliers.
Fantastic value
We provide a high-quality repair service at a competitive price, with no need to worry about a call out charge or ongoing contract. Our plumbing services are available on a flexible basis so that everyone can benefit from hassle-free professional support.
Call 020 868 22244 and speak to one of our experienced plumbers immediately. Our emergency plumbing repair service is available within our London coverage area.
Or, if you can't talk right now, send us a message and we'll get back to you within 1 hour.
Quality plumbing services
in London
Our team can handle a lot more than just plumbing emergencies – we offer a range of specialist plumbing services to ensure that customers in London always have access to the expertise they require.
Contact


Maintracts Services
Ltd
Call 020 868 22244 to find out how our experienced team can help. We complete all residential and commercial plumbing, heating, electrical, and drainage jobs efficiently, professionally, and to the highest possible standard.