Whether you have recently installed a brand-new bathroom, or you are simply planning to revamp your existing one, the accessories you choose will play a huge role in modernising and complementing your design style or theme. It is often the little touches that make the biggest impact, so it is worth taking time to choose towel holders, soap dispensers, and other bathroom accessories that will perfectly enhance the space. We discuss the key factors to ponder when choosing the best bathroom accessories for your modernised bathroom.
Consider
the space available
The best laid plans of bathroom design planning often go awry when the space available is not considered properly. This is particularly true when designing small or awkward shaped bathrooms like those often found in loft en suites with a small floor area and sloped ceilings. The last thing you want to do is add to the problem further by choosing too many accessories that clutter the space or do not fit the given area correctly.
Think carefully about what accessories you need or want and where they will go. You can then measure the available installation area and purchase items accordingly. For example, there is no point opting for a ring towel holder if there is no room to lift the ring up and down to change the towel easily or if the towel ends up hanging too high or low once installed.
Colour
Better Homes and Gardens suggest using the rule of three as a guiding principle for creating a bathroom colour scheme: Pick one neutral, one rich colour, and one accent colour. To do it successfully, think about proportion and rely on a 70/20/10 distribution. Use the lightest colour for around 70% of the room's décor, the second lightest for about 20%, and the boldest for roughly 10%.
This rule of three gives you more scope to choosing complementary accessories. If you are prone to changing the theme of your bathroom every few years, you may find it better to accessorise with your chosen lightest/neutral colour. This will mean that you won't necessarily need to purchase new accessories every time you makeover your bathroom. Alternatively, if you know you will not be decorating again for a while, you may want to go bold and choose accessories which match the richer/accent shades. Go for it – you will make those colours pop and fully embed and blend your chosen theme.
Style
Once you have considered colour, you should also think about style. There are key styles that tend to fit into most modern bathroom themes:
Rustic style
By rustic, we are referring to anything with a classic texture to it, like a cast iron loo roll holder, wicker bin, rustic wood framed mirror or (our personal favourite) an industrial pipe towel rail holder and vintage pipe shelf! These styles are perfect for country, rustic, or traditional bathroom styles.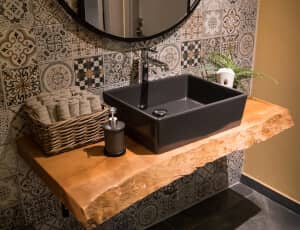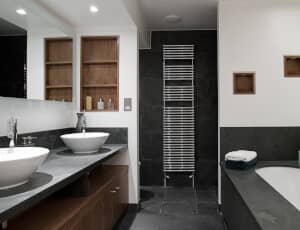 Chrome
For an extremely contemporary look, reflective chrome is sleek and sheen.
Marble
Marble accessories look fantastic with stone or other natural textures used.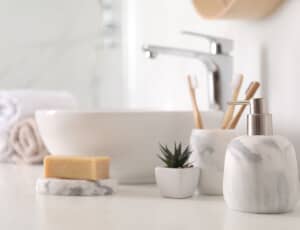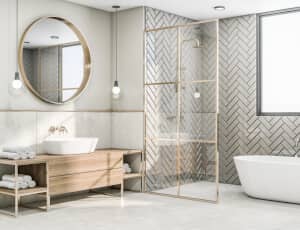 Glass
This can be high maintenance in the cleaning stakes, but glass is highly complementary to modern bathrooms and can create an open, sleek, and light-filled look. Its reflective nature will help bounce natural light around the room to create the illusion that it is bigger and more spacious that it really is.
Geometric décor
Incorporating accessories with a geometric texture like a geometric design bathmat, towel, candle holder or multi-functional storage tray can instantly modernise the look and feel of the space. Choosing a geometric design in a bold colour will further embed a contemporary vibe.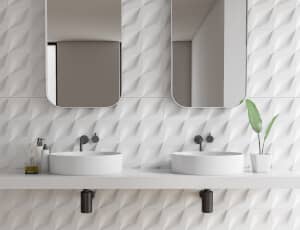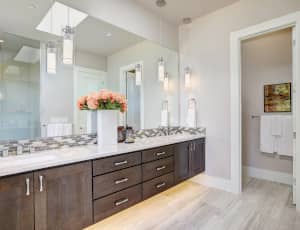 Sympathetic lighting
Lighting will play a crucial role in creating the right ambience for your style and theme. Colours can also appear differently depending on light levels. Think about both the design of the actual light itself as well as the type and amount of light it exudes. If you have plenty of natural light coming into the space, you may decide that you need minimal lighting for practical purposes and concentrate on lighting that accentuates the features instead.
Budget and
prioritising essentials
While getting carried away with accessorising will prove to be fun, it is likely to leave a bigger dent in your wallet than expected. Budgeting is good practice, no matter the home improvement project you are embarking on. Setting a realistic rough cost against the fittings and accessories you are planning to splurge on will allow you to narrow down options more easily. If you are not willing to compromise on quality in return for lower cost items, you will need to prioritise all your essential accessories, so you can see what you have left in the money pot for other non-essential items. Sometimes it is worth investing in excellent quality wares to ensure durability and a longer lifespan.
Do not assume
big brands are best
Just because something costs more, does not always necessarily mean that it is of better quality. The brand conscious among you may beg to differ but, realistically there are several brands that provide excellent value for money by providing quality items at an affordable price. Compare the different prices alongside the quality of the products and think about the functionality and durability of the items too. For example, if you plan to revamp your bathroom again in a year or two and change the accessories, it's probably not worth investing in a very luxurious and expensive statement piece.
Bathroom wall

accessories

There aren't many accessories that can't be wall mounted nowadays, including shower caddies, snazzy toothbrush holders that automatically dispense toothpaste, electric toothbrush holders, soap dishes, make up mirrors, toilet roll holders, bathrobe hooks, and shower/sink shelves. Plus, if you are simply looking for bathroom wall accessories that serve no function other than to provide interest and flair, you could consider:
Quirky bathroom wall art
Some well-chosen art can be enjoyed by bathroom guests during every visit!
An accent wall
Create a statement with some bold paint, geometric wallpaper, or a new wall texture such as a floor to ceiling marble wall, colourful mosaics, or patterned tiles.
Incorporate mirrors
Mirrors are not only a wonderful way to make bathrooms seem bigger and brighter, but they can also be a standalone feature too.
A simple shelf
Sometimes simplicity wins. A lone shelf with some well-placed ornaments or plant can be just as effective as a full-blown wall mounted with a collage of framed prints.
As plumbing, heating, electrical, and drainage experts providing professional maintenance and installation services in properties across London and the South East, we have been privy to a modern bathroom or two! Whether you are planning a full bathroom renovation project or you require expert repair work to deal with a leak or blockage, our team has the skills and knowledge to help. Find out more about how our bathroom services can help customers in and around London or give us a call if you'd rather chat to an expert in person.