Not only is a leaky toilet a nuisance, but if the leak is not caught early on, it can cause some severe damage too. Toilet leaks can be caused by several culprits including loose bolts, pipe/valve misalignment and broken seals. Whatever the cause, you will typically notice some obvious signs of a problem such as water on the floor around the bottom of the toilet, other evidence of dampness, water running into the bowl, cracks in the bowl, or rusty pipes. If the leak has been undetected for a while, you may even notice things like rotten floorboards, ceiling damage and other structural damage.
Regardless of the cause or when you notice the problem, you should aim to isolate the toilet leak straight away by turning off the isolation valve. This will allow you to turn off the water supply to the toilet only, rather than turning off to your entire property, while you seek out a professional plumber to fix the problem. Read on to find out where the toilet isolation valve is located and how to turn it on and off.
Where is the isolation valve on a toilet?
The isolation valve is usually located directly under your toilet or directly under the sink in your bathroom. It looks like this: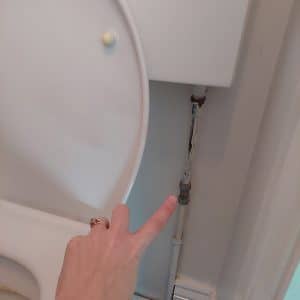 To turn it off you will need a flat head screwdriver.
How do I know if my isolation valve is on or off?
When the water is flowing, the slot on the isolation valve should follow the line of the pipe work, the isolation valve is in the off position. A quarter turn in either direction (so that the slot goes across the pipework), will put the isolation valve is in the off position. If the valve is in the off position and the leak is still there, you will need to turn the water off at the stop tap.
If you think you are experiencing a toilet leak and do not feel confident in locating and isolating the water supply, the team at Maintracts will be able to help you. If you are at all concerned, call our team on 020 8682 2244 and we can walk you through the process of isolating the water to your toilet whilst on the phone or simply arrange for one of our Plumbers to come out to you, resolve the problem and carry out the plumbing repairs to your property.
If you have never called on us before and would like to check out our reputation, take a look at what some of our previous customers have said about working with us.  Our 40+ years in the business has earned us a standing to be proud of.