Plumber Chiswick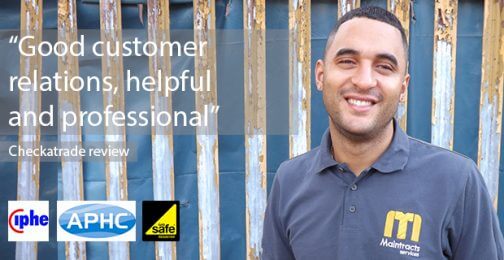 Certified Plumbers in Chiswick
Don't wait for plumbing issues to go from bad to worse. Call Maintracts today for prompt and effective plumbing solutions.
You want your plumbing problems fixed quickly and thoroughly. Maintracts Services has a solution for both. Our plumbers in Chiswick are dedicated to quality service and they're always on-call, whether it's night or day, weekend or holiday.
During the over 40 years we've been around, we've helped thousands of clients with their plumbing issues. We are a trusted name in the industry that's been around since 1973. We've worked with letting agents, housing associations, businesses, local authorities, and of course, homes.
Call us anytime and we'll send our expert plumbers to help you.
More than Plumbing Services
We also help our clients deal with a number of issues concerning other systems including electrical, heating, gas, and drainage.
Here are a few of the services clients typically call us about.
Emergency plumbing services
Install domestic appliances like dishwashers and washing machines
Install new water mains
Install or repair central heating
Install or repair cold water storage tanks
Install or repair Saniflo macerators
Install or repair showers and toilets
Install or repair waste disposal units
Install or repair water tanks.
Repair burst or leaking pipes
Repair hot water cylinders
Repair leaking radiators
Repair/unclog blocked toilets and drains
Replace sinks, taps and sanitaryware
Work on booster and shower pumps
If you want to make sure that we have experience dealing with your issue that's not listed here, don't hesitate to give us a ring.
Safety is a Priority
Aside from our commitment to excellent quality, we also take safety seriously in our work. Our engineers are all insured and certified. They're also Gas Safe registered.
We're members of the Association of Plumbing and Heating or APHC and the Chartered Institute of Plumbing and Heating Engineering or CIPHE as well.
Give Us a Ring
If you're having plumbing problems in Chiswick or its surrounding areas, give us a call at 020 8682 2244. Remember, we're available 24/7.