Plumber Earlsfield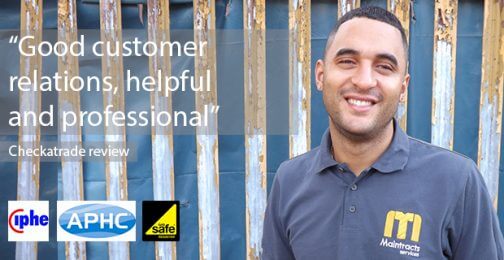 Plumbers in Earlsfield
Plumbing issues should always be addressed promptly and decisively, before they interfere with your daily activities. Call Maintracts Services. Our plumbers in Earlsfield are experts at dealing with these issues quickly without causing disruption to your work or home life. You can reach us any time, any day.
Since we opened our doors in 1973, we've helped thousands of people with their plumbing problems and we hope we can do the same for you. We're proud members of the Association of Plumbing and Heating or APHC and the Chartered Institute of Plumbing and Heating Engineering or CIPHE. Our engineers are all insured and Gas Safe registered.
Call and book our services today.
The Solutions We Offer
We have experts that deal with different issues for a variety of systems including gas, heating, drainage, and electrical.
Here's a list of the services and issues many of our clients contact us for.
Emergency plumbing services
Install domestic appliances like dishwashers and washing machines
Install new water mains
Install or repair central heating
Install or repair cold water storage tanks
Install or repair Saniflo macerators
Install or repair showers and toilets
Install or repair waste disposal units
Install or repair water tanks.
Repair burst or leaking pipes
Repair hot water cylinders
Repair leaking radiators
Repair/unclog blocked toilets and drains
Replace sinks, taps and sanitaryware
Work on booster and shower pumps
If you don't see the specific issue you've encountered on this list, you can give us a call to check whether we can help.
The Maintracts Services Difference
Plumbing issues have a tendency to get worse over time when not dealt with properly. They can end up costing more and interfering with your activities. We understand how urgent and important these issues are.
Our commitment to technical excellence and customer service promises no more than a quick and professional solution to your problem at a reasonable price. Our over 40 years of helping clients in Earlsfield and its surrounding areas speaks for itself.
Give us a call today at 020 8682 2244 or have us call you by going to our Contact Us page.